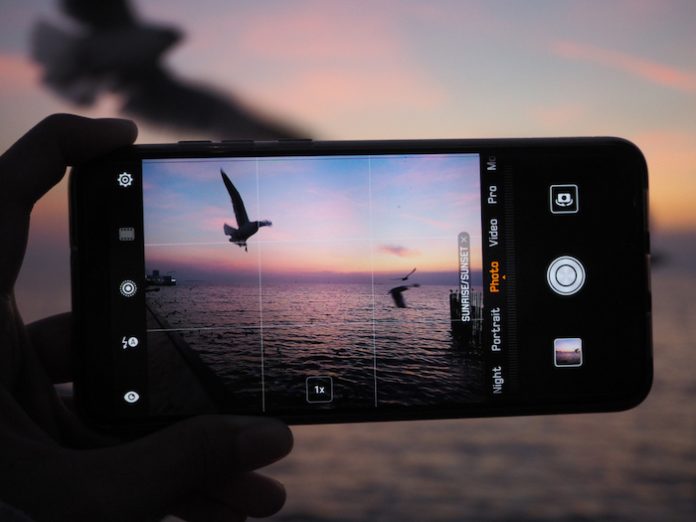 We love being a bird food seller, because with every single nut, grain and little bit of fat we sell, we know that we're helping the birds we love. So whether we're hard at work here at the Happy Beaks office, or busy at home, we love to take five, put the kettle on, and spend a bit of time checking out amazing bird photography on Instagram.
Here's a selection of awesome Instagrammers from across the birding internet. Make sure you give some of these twitchers a follow.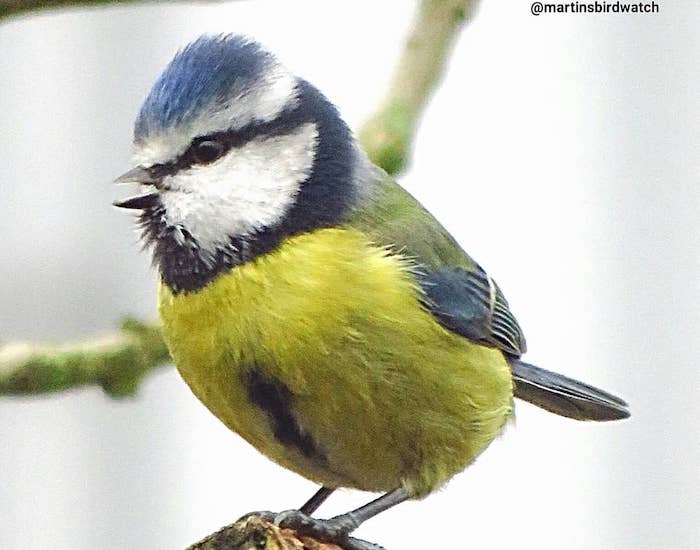 This stunning photograph capturing a blue tit mid-song in Martin's garden is just one example of the array of stunning images of garden birds you'll discover at @martinsbirdwatch. A man who clearly knows his stuff, do check out his incredible capture of a Eurasian sparrowhawk – he says these birds feed on songbirds, but the females will sometimes take a pigeon.
As a lady who likes "all things bright and beautiful", it's no wonder that this photo of a robin made its way onto Zoe's Instagram. Posting @beautiful_nutnut, she records the birds she sees around and about her seaside home in Worthing and on her rambles around the South Downs. There's even a pair of storks from a trip to Knepp Estate in West Sussex.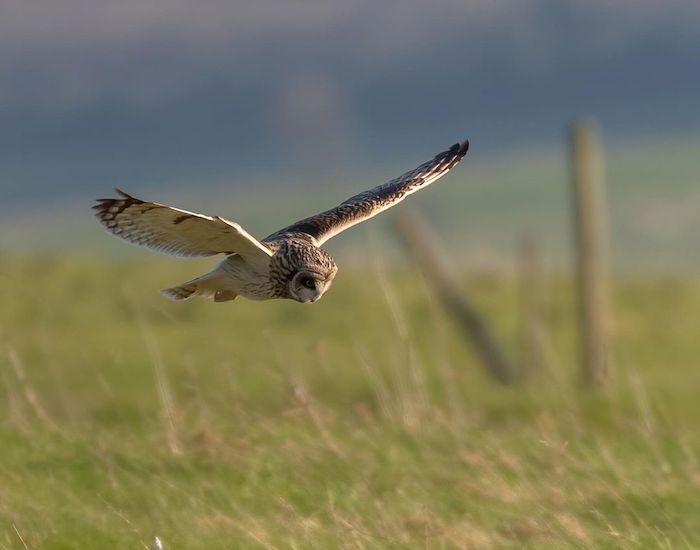 From this wonderfully dramatic shot of a short-eared owl hunting across the downs to a snap of a dazzlingly iridescent kingfisher, a visit to @helenlew is your passport to photography with the wow factor. A keen wildlife photographer, you'll love Helen's photos of some of our most elusive British wildlife – check out her pic of a red squirrel.
"I was alerted to their presence by their loud CLACK, CLACK (or chuck, chuck… Or tsak, tsak…) calls, coming from the berry-laden hawthorn where they sat bickering over their shiny, red dinner," says Lucy of @lucy_lapwing. She's talking about members of the thrush family, the fieldfares she spotted. And check out her video of a Long Tailed Tit's nest. The melon-shaped structures they make to protect their young are incredible. A brilliant nature photographer, this Insta account drew oohs and aahs aplenty.
Few photographers have the talent to capture the elegance of birds in flight, but one who certainly does is Karen Miller, of @karen.miller.photography. A wildlife photographer and guide from Scotland, a visit to her Instagram is to immerse yourself in the incredible fauna and flora of the wild North. We also loved her snap of a Black Isle pine marten in its natural habitat.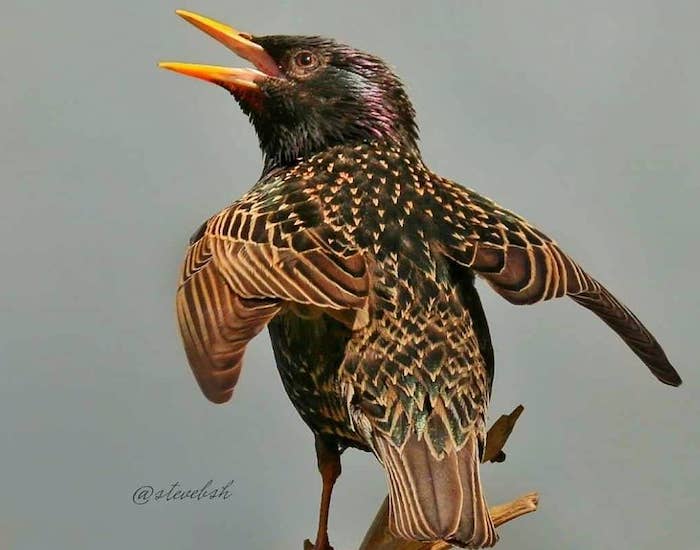 If you're a starling and a crow flies overhead, the best thing to do is pretend to be one, says Steve at @stevebsh. Hailing from Deal in Kent, Steve is a wonderful photographer who really knows how to capture the true character of birds. Another of our favourites is his snap of a great spotted woodpecker enjoying some peanuts and chopped suet at a feeder.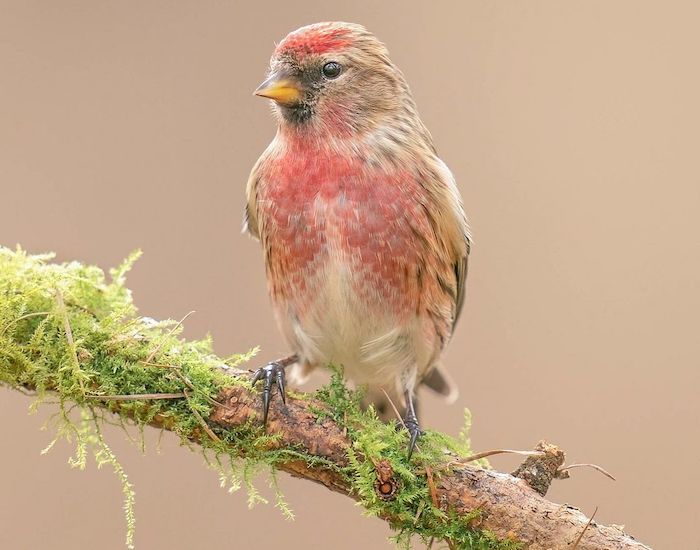 A stunning capture of a stunning little bird, this pic of a lesser redpoll shows just how much skill and dedication this nature-loving duo bring to their photography. A visit to @nathan_and_jess_jones' Instagram page rewards you with many more amazing images of birds. From an incredible shot of an owl flying towards the camera to a hunting kestrel, this instagram feed is a must.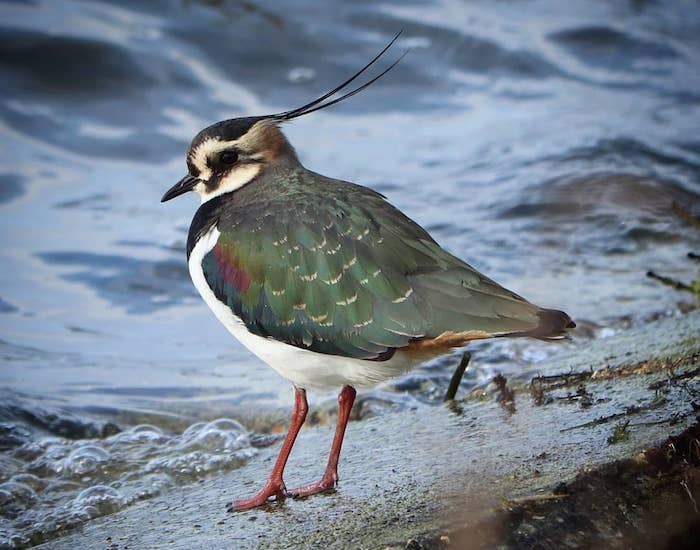 Gifted amateur photographer, Tony at @tstanford3722 offers up a smorgasbord of brilliant bird and wildlife images taken mainly around Northamptonshire. A visit to his Instagram yields such delicacies as a lovely pic of a long tailed tit, and a very personable muntjac or laughing deer captured at Summer Leys Nature Reserve.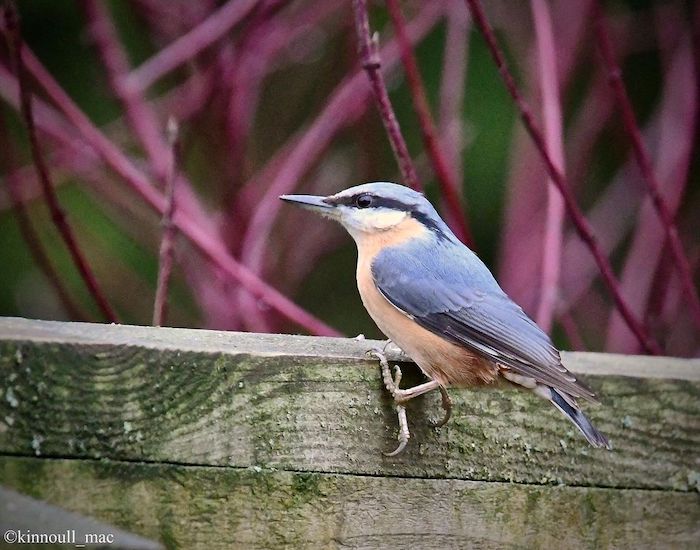 We think you'll agree, the soft colours of this nuthatch look great shot against the purple stems in the background. Do check out the rest of Marian's photos at @kinnoull_mac for vibrant wildlife with a distinctly Scottish flavour. As well as more birds, you'll also discover a wealth of snaps of that all too elusive favourite, the red squirrel, bouncing about in the snow.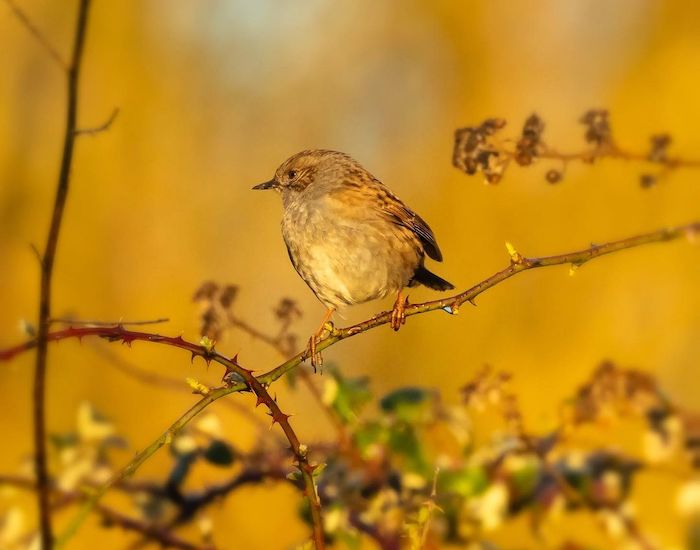 Have you heard of photographers referring to the 'golden hour'? This delightful image of a dunnock by Nick @nick_de_cent_wildlife shows just what they mean – we think you'll agree, the colours really are beautiful and so evocative of that late afternoon (or in this particular case, sunrise) glow. A man who clearly knows his stuff, Nick has been mainly shooting around his Exeter home over the past few months.You'll love his pic of a courting great crested grebe.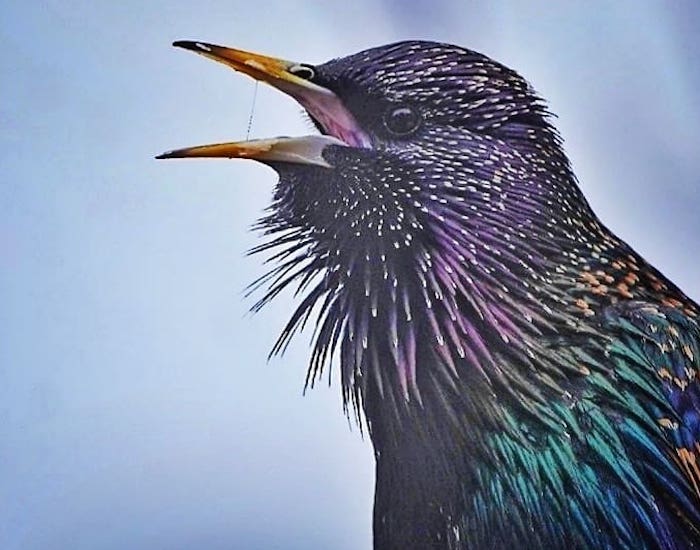 "We have so many Starlings coming to our garden so when this one landed close by and started singing I left my camera alone. Glad I changed my mind. The colours are incredible," says Daz at @daz_flicks! We couldn't agree more. For more fireworks, do visit Darryl's Instagram – his snap of a manderin duck alone is worth the click.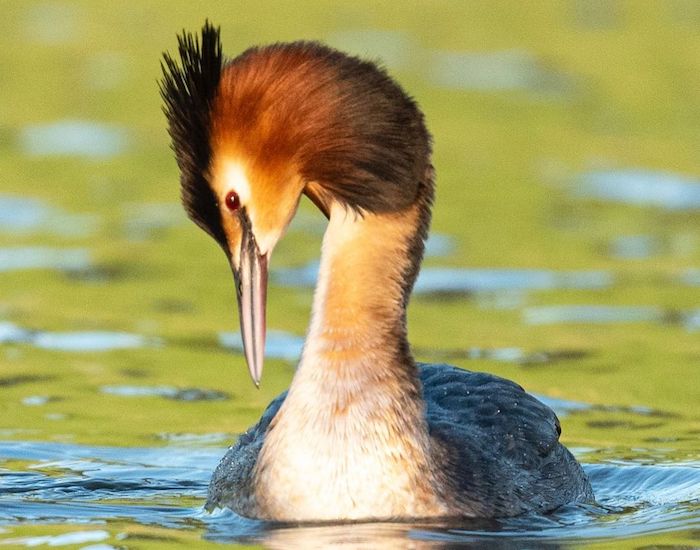 We think you'll agree that unity of tone, elegant simplicity of composition, and the stunning golden brown colouring of this great crested grebe combine to produce a wonderful shot. Janet at @Janetbush_nature_travel really nails it here and, as you'll discover when you check out her Instagram, this is no fluke. Take a look at her shot of a wagtail, to see a novel approach to shooting a commonplace bird.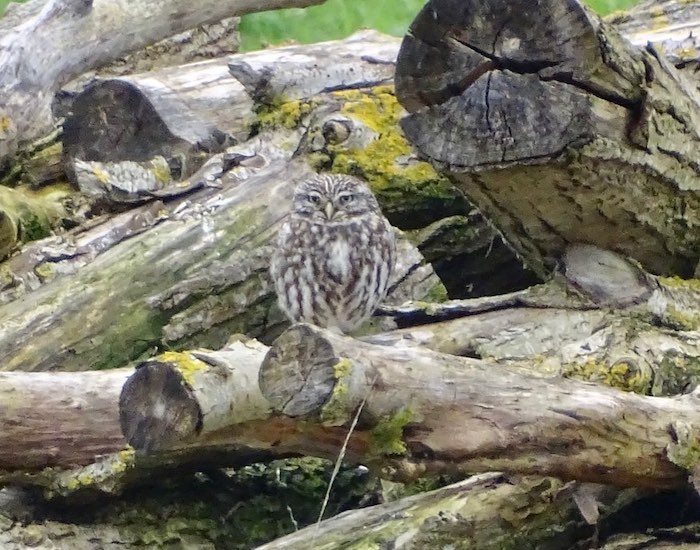 Want to see what this little owl was eyeing up for its breakfast? Head over to Emma Pearson's Instagram page, @emmas.nature.photography and swipe. Snapping in and around the Cambridgeshire Fens, Emma says she's quite new to photography, but a look at some of her photos certainly suggests she's onto something. We love the detail on her shot of a cormorant drying its wings.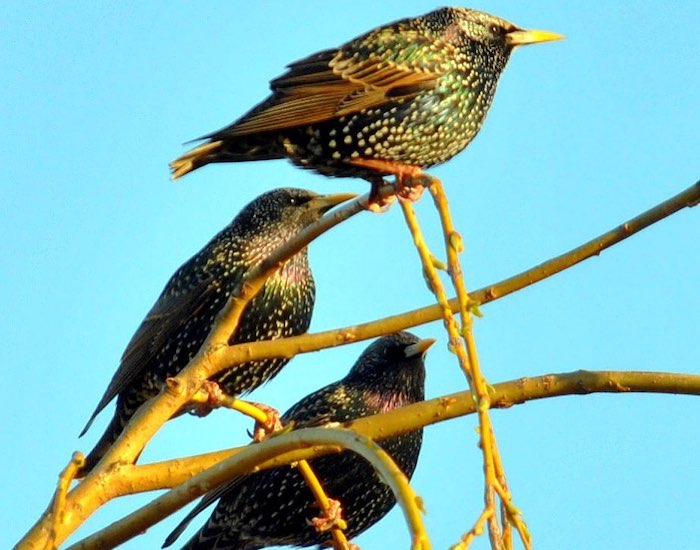 When it comes to making our common garden birds shine, this Instagrammer's work offers a masterclass. Focusing on garden birds and shooting and displaying images without using filters, Natalie at @gardenbirdgeek produces some dazzling photography. Well worth a look, you'll love the way this Instagrammer captures garden birds on camera.
A lovely capture of a jay is just one of the highlights on offer when you visit Pete's Instagram @pete.roper1. A bird which was seldom seen in gardens until the late 1990s when harvests of acorns, the jay's preferred food, began to decline, do check out Pete's other shot of the jay – these birds are so intelligent and full of character.
If we've missed any of your favourite Instagram accounts, please let us know! Make sure you check out our 'Snap of the Month' contest too. All you have to do is take a photo then share it with us and use #SnappyBeaks.
Lead image: Shutterstock