"Dawn-giddy birds chirp as if every morning is a special occasion. Wise, wise birds." – Terri Guillemets
For the last month, we have been awakened by our feathered alarm clocks taking part in the dawn chorus. Now with Spring in full swing and leaves are now covering our trees much of this activity will shift to the privacy of the nest. The sign that mating season is now in its most vital stage. 
This May we'll guide you through your Happy Beaks garden. With birds to spot, our top gardening tips, National Garden Wildlife Week and this months winner of #SnappyBeaks!
Garden Birds to Spot in May
As Spring arrives our gardens really do start to transform. Nesting season is a busy time for many birds, you will often see them flying back and forth preparing their nests. Many birds can be seen all year round but, their activity changes through this key period.
Wrens
During the nesting season, a male Wren will prepare countless nests and the female will decide which to lay her eggs. Best spotted in flight, it's a tiny little bird, whose wings whirr rapidly to propel the plump little body. Mostly brown, with some markings, both in brown and grey.
Look out for its tail, which is often cocked vertically. Wrens breed from March to July and building a domed nest, the wren lays 5-8 eggs which incubate for 12-20 days. Young then fledge after 2-3 weeks.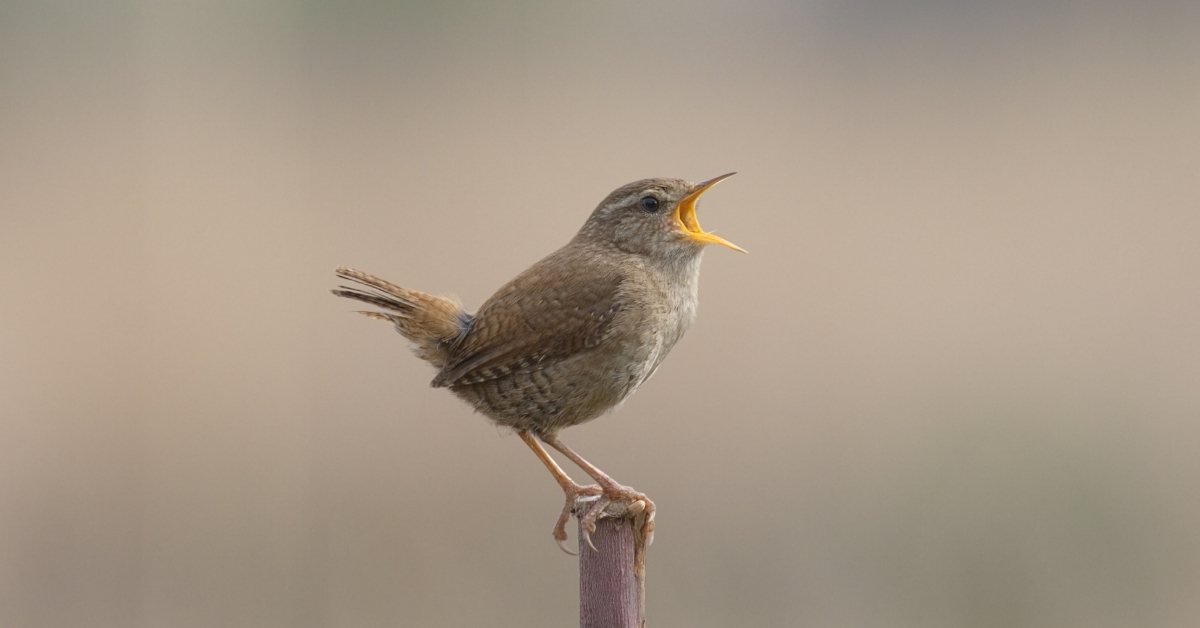 Goldcrest
The Goldcrest is the UK's smallest bird, but what it lacks in size it definitely makes up for with its striking appearance! Their nests, which are usually suspended in conifer branches, are formed into spherical cup shapes and are constructed from lichen, cobwebs, moss and hair.
Round nests constructed from spider webs, moss and lichen are delicately built-in conifer trees. The female will lay a clutch of eggs around 6-8 strong, and fledgelings leave the nest at around 18 days old. To find out more, read our Top Ten Facts about Goldcrests.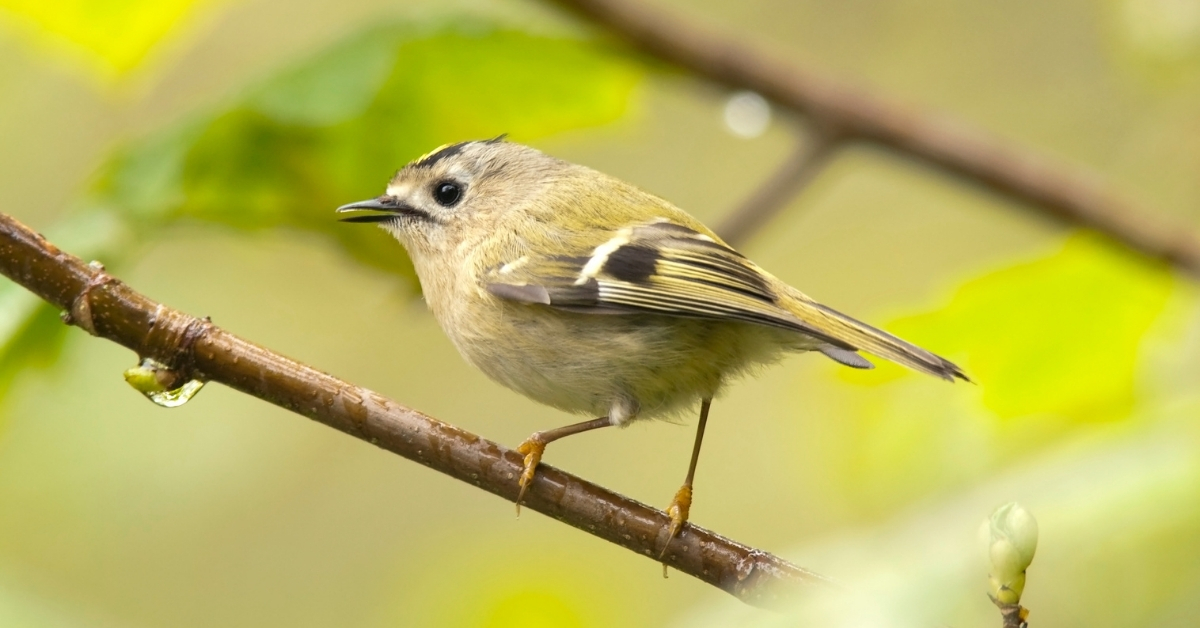 Green Woodpecker 
The green woodpecker is a very antisocial bird. Though it does tend to pair for life, outside of the breeding season the two birds in a pair will roost separately, though this may be in the same general area. They make contact again during the next breeding season around March time; they re-establish their pair bond through a series of loud calls, and a period of courtship. Green woodpeckers are sometimes called the yaffle bird, named after their 'yaffling', or laughing call.
Late April breeding begins for the Green Woodpecker. Producing on average, 2 clutches of 4 to 9 eggs, and continue into an incubation period which lasts around 19 days before fledging for approximately 25 days.
Want to know how to attract woodpeckers to your garden? Take a look at our blog post to see what you can do to make your garden a more appealing environment for these feathered friends.
New to bird watching? We know it can be a real challenge to know exactly what is popping into your garden for a bit of a snack. Read our blog on How to Identify Wild Garden Birds for more information.
Gardening in May
As we enter May it becomes one of the busiest months in the garden. Seeds can be sown directly, lawns can be mowed, and fingers crossed sunshine can be enjoyed. 
Veg Gardens 
Grow Your Own Herbs

– May is the perfect month for herbs! Herbs are the perfect thing to grow regardless of your space

Keep Sowing

– There's still plenty of varieties to sow in May. Many veg seeds can be sown outdoors but, for an earlier crop deep pot in a greenhouse or inside on a windowsill. 

Veg Plants

– Plants

raised indoors can be gradually hardened off, ready for planting out.
Flowers & Bulbs 
Weed, weed, weed –

Getting on top of the weeds now will be a great help come summer.

Greenfly

–

Now is also a good time to check for greenfly especially on spring bedding and bulbs such as daffodils and tulips.

Spring Flowering Shrubs –

Once they've finished flowering, prune your spring-flowering shrub

s.
Wildlife Gardening 
Ponds

–

Water lilies and other pond plants can be planted up in new aquatic baskets and compost, do not use ordinary compost as it encourages algae and is too rich.

Feeding Garden Birds

– There's a variety of seed mixes to choose from, but high energy things like

suet and fat balls

are the ideal choice to give your garden birds the boost they need.
#SnappyBeaks 
We love seeing your photos. Each month we plan to showcase some of the best photos out there, of birds in the garden and home, and give you a chance to win a prize in the process.
Here are some of our favourite entries this month: 
#SnappyBeaks Winner 
This month's winner is Izzy Fry (@izzyfryphotography) with this fantastic image of a Cuckoo. While you're more likely to hear one than see one in the wild, you might be lucky enough like Izzy to spot one on the lookout for a potential host's nest, or food. 
Read our blog on the Life Cycle of the Cuckoo to find out more about this fantastic bird! 
Get Snappy with Us! 
It's so simple to enter! Just share your photo with us on any of our social media platforms, using the hashtag #SnappyBeaks. You can enter via Instagram, Facebook, Messenger or Twitter. As long as your photo is related to bird feeding or wild birds in some way, we'll consider it as a valid entry. Click here to find out more. 
National Garden Wildlife Week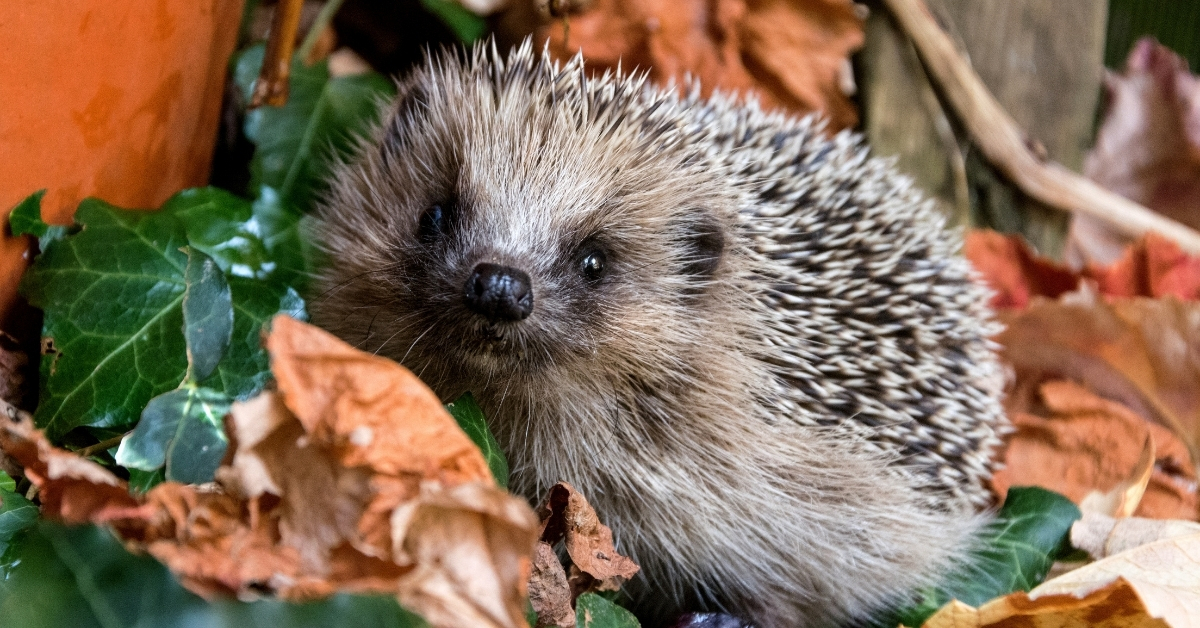 National Garden Wildlife Week runs from the 31st of May to the 6th of June 2021. It's a week created to celebrate wildlife-friendly spaces in your garden. From nest boxes to bee hotels with our support we can help wildlife flourish. 
Wildlife to Encourage in Your Garden 
Mother nature has its own way of keeping on top of pest control – there is a variety of insects, amphibians and mammals you should hope to see making themselves at home in your greenery. 
Pollinators 
 To attract pollinators choose pollen and nectar-rich flowers for bees, butterflies and other pollinating insects. 
Did You Know… Bees are such effective pollinators that if they were to go extinct, our landscape would completely alter, with us losing all the plants they pollinate.
Garden Birds 
To encourage birds to your garden, simply put out a variety of feed, from aflatoxin tested peanuts to a seed mix, and watch the birds flock to your garden. It's a good idea to offer a source of water for them to drink from too or a birdbath. You can even help them by putting up a nest box.
Earthworms 
Earthworms are vital for maintaining the health of your soil; they wiggle around beneath the roots, munching on any decomposing material such as dead plant matter and dead leaves, which then gets deposited partially digested, and revitalises the nutrients in the soil.
Did You Know… Not only does this mean more vital nutrients for your plants, but all that moving around also helps to aerate your soil so that plant roots can get enough oxygen.
Hedgehogs 
Hedgehogs are fascinating creatures that you can spot around the British countryside, but they'll also make a hefty dent in your slug population, too. Snails, beetles, and a variety of other insects will also be on the menu.
Did You Know… Hedgehogs rely mainly on hearing and smell because they have very bad eyesight. 
Ladybirds
Plant coreopsis, angelica, or any members of the parsley family; parsley, carrots, fennel, dill, and yarrow. If there are plenty of aphids for them to eat, they'll be sticking around for a while.
Did You Know… The ladybird larvae will eat at least 400 aphids before they pupate, and their adult equivalent will eat more than 5,000 aphids in their 3-year life span.
How many of these friendly creatures have you spotted in your garden? Let us know over on our Facebook page!